Wavy Mid-Length Lace Front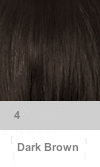 You are bidding on color 4: Dark Brown

Overall Length: Approx. 18-19"

The highest quality Synthetic Lace Wigs on the market today, hands down! All Hand Tied with Mono, this item offers easy air excess, Pure Stretch Ear-to-Ear cap provides the maximum comfort. The multiple layers give you plenty of styling options.

Lace Front Measurement from the Hairline: Approx. 11x 1"